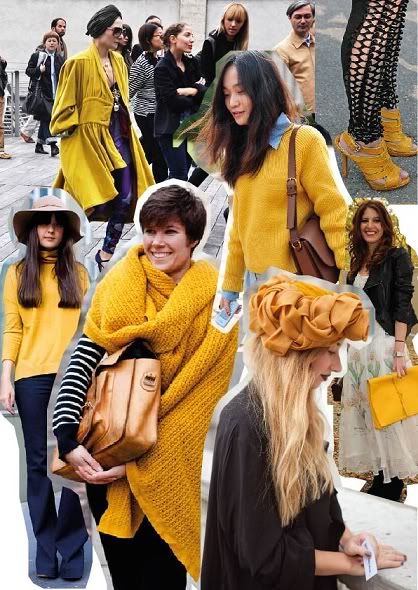 photos courtesy elleuk.com, hanneli.com, streethearts.com,
waynetippets.com, style.com, glamcanyon.blogspot.com
Looking at the photos above, I realize that I don't have nearly enough yellow in my life. All the shades on the yellow spectrum, whether buttery, lemon-y or mustard-y, are absolutely fantabulous in my book.

Yellow tends to be a colour associated with summer as it best reflects the warmth and cheerful mood of that season. In colder seasons dominated by the darkest, most dreary colours, a bit of yellow is always a surprising yet most welcome addition.
Below are some of my picks of stylish yellow pieces to brighten up a winter wardrobe.
Price: UK£70.00 (US$120.68)

Chunky Knit Snood Scarf
Price: US$7.80
Drawstring Pencil Skirt

Price: US$28.99
Cotton Cable V-Neck Sweater
Price: US$29.00




Etienne Aigner Tuscon Tote
Price: US$63.99
See by Chloé Cropped Cotton-blend Pants
Price: US$81.00


Alfani Sweater